Australia is op veel vlakken een fantastisch land. (natuur, ruimte, weer enz)
Maar het politieke klimaat baart me vaak zorgen. Ik weet het, je kunt niet alles hebben, maar wilde deze beweging toch even melden.
Demonstreren tegen bepaalde zaken (dit is voornamelijk gedreven door de mining lobby) wordt moeilijker of veel hoge gestraft
Tegelijkertijd krijgen (mining) companies minder hoge straffen voor illegale praktijken.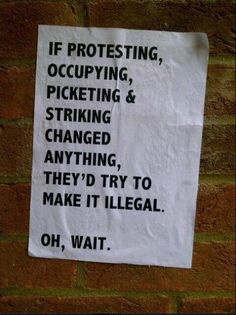 Een naar
mijn
idee ongewenste trend, wilde in deze dan ook een andere kijk op dit land meegeven.
Je hoeft het niet met me eens te zijn natuurlijk. Wil alleen het nieuws delen want deze kwam voor mij enigzins als een verassing.
http://www.smh.com.au/comment/nsw-a...corrosive-national-trend-20160321-gno10h.html
"...The NSW laws give police excessive new powers to stop, search and detain protesters and seize property as well as to shut down peaceful protests that obstruct traffic. They expand the offence of "interfering" with a mine, which carries a penalty of up to seven years' jail, to cover coal seam gas exploration and extraction sites.
They also create a tenfold increase in the penalty applying to unlawful entry to enclosed land (basically any public or private land surrounded by a fence) if the person "interferes" or "intends to interfere" with a business there. At the same time as ratcheting up this penalty for individuals who protest, recent changes made by the NSW government mean that resource companies that illegally mine can receive a $5000 penalty notice instead of a potential $1.1 million fine.
Disturbingly, these laws aren't isolated.
Tasmania last year targeted environmental protest with broad and vague new offences including "hindering" access to business premises or "obstructing" business operations, with penalties of up to $10,000 and four years' imprisonment. In Western Australia, proposed legislation contains extremely broad new offences of "physically preventing a lawful activity" and "possessing a thing for the purpose of preventing a lawful activity" with proposed penalties of up to two years in prison and fines of up to $24,000.
Common to these anti-protest laws are harsher penalties, excessive police powers and the prioritisation of business interests (particularly mining and forestry operations) over the rights of Australians to gather together and protest about issues they care deeply about.
Last edited: